Fred Rouse The Real Money Doctor
Dr Fred Rouse, CFP, The REAL Money Doctor, the Quiet Trader and International Bestselling Author shows Subscribers How to Get, Protect and Enjoy YOUR Money, Life and Retirement at an age young.
Dr Fred Rouse, The REAL Money Doctor announces Short Window Retirement Planning giving hope to hundreds of thousands of pre retirees that have underfunded retirement accounts.
Short Window Retirement Planning, is a system designed and developed exclusively by Dr Rouse for the unique needs of people in their 50's and 60's that don't have $850,000 in their retirement accounts and realize that they have a very short window of time to be able to catch up their retirement saving in just 5 to 7 years and need to provide a predictable stream of income well into their 70's and beyond.
According to Dr Rouse, "All traditional financial planning has been based on the 30 year buy and hold saving model. You would save $500 to $600 per month for 30 years buying various stocks, bonds, mutual funds, annuities or options at an average 10% rate of return and at the end of that time you'd have just over one million dollars and a reasonable retirement if you didn't live a lavish lifestyle. That hasn't worked for a lot of people and now when they're in their 50's and 60's don't have the time for it to work."
The 2018 Retirement Savings survey found that 42 percent of Americans have less than $10,000 saved. While at the same time the Bureau of Labor Statistics reports that on average, adults 65 and older spend almost $46,000 a year.
Dr Rouse continued," With the ever changing economic conditions there's a large group of people in their 50's and 60's that are simply not ready for retirement.
They started saving for retirement in their 30's and may have had several job changes in their careers and life issues that caused them to draw down on the savings they had.
At age 50 and beyond they have a distinctive set of circumstances and a very short window of time so that traditional financial planning will simply not work for them"
Fred Rouse The Real Money Doctor Reviews
According to the Government Accountability Office (GAO), 29% of households age 55 and older have neither retirement savings nor a pension. The AAPR states that more people fear running out of money than fear death itself.
After 20 years in financial services Dr Rouse noticed that the traditional financial planning methods were not working for a large amount of the population. He took an additional 10 years and over $350,000 of his own money to develop short window retirement planning to fill an ever widening gap in the retirement area.
The standard recommendations for people that find themselves 50 and older without sufficient retirement savings has always been: 1.To put off retirement longer, take a part time job and work into your 70's and beyond. 2. Downsize and cut back your lifestyle almost 40% and 3. To increase your saving to almost 50% of what you currently earn.
It's obvious that the "standard" recommendations don't offer much hope when you're in this situation.
However, now according to Dr Rouse, there is finally specific short window retirement planning help for people in their 50's and 60's that don't have $850,000 in their retirement accounts that does offer hope and a workable alternative to the "standard" planning advice.
Dr Rouse offers free training on this new short window retirement planning approach on his website DrFredRouse.com. The early reports that students shared on the training make this look like a promising last hope for thousands of people facing retirement with underfunded savings accounts.
More About Dr. Fred Rouse, CFP:
Dr Fred Rouse, aka The REAL Money Doctor, is a Certified Financial Planner and the national award winning top advisor in the US on short window retirement planning.
He is an international bestselling author of the book Soul of Success with Jack Canfield (Chicken Soup for the Soul fame)
He's also co-authored a 2nd bestselling book, Cracking the Code to Success with Brian Tracy, the legendary businessman and international speaker that trained Jack Canfield and Tony Robbins.
He works with select individuals and a variety of small businesses to improve their lives, cut taxes, make money, protect their assets and help them gain an Iconic Lifestyle.
He's developed The REAL Money Doctor's Business Rx course with Brian Tracy that helps aspiring as well as seasoned entrepreneurs take control of their business, cut their taxes and make more money while still having time to enjoy a personal life.
On the REAL Money Doctor Show, that's live weekly on his Facebook page "The Real Money Doctor" and on his YouTube Channel, he confronts the issues that plague retirees and pre retirees from achieving their financial and life goals.
Dr Rouse has developed the groundbreaking Short Window Retirement Planning system. It's a simple three step program teaching people how to catch up their savings and provide a predictable cash flow allowing them to have their Ultimate Secure Retirement© in as few as 5-7 years.
His passion is teaching people about money and helping as many people as possible get, protect and enjoy; their money life and retirement.
He has been honored at several red carpet events receiving national awards for his books and work. And he has been seen on FORBES, Newsweek, Inc magazine, the Wall Street Journal and USA Today as well as ABC, NBC, CBS, FOX, Bravo and Hollywood Live.
He shares his knowledge and expertise through his books, special reports, webinars and his website.
You can contact Dr Rouse via his web site DrFredRouse.com to learn more about how he can help you and or your business and see how you can benefit from short window retirement planning.
Since the mid-80s, his diversified Financial Management Group has helped hundreds of select individuals and small businesses of up to six employees throughout the greater Philadelphia area. With nearly 30 years of tax, asset protection, business and trading experience, he shows Clients how to reduce their taxes and structure their businesses for the maximum tax savings, asset protection and privacy.
For most CFPs, the story ends there. That was simply the foundation for Dr. Rouse, whose passion for trading commodities and the great success he has achieved in that realm over the years has earned him another key designation from students of the EOD (End of Day) Scalping Trading Course that he launched in 2010: "The Quiet Trader."
Dr. Rouse has the "Only Complete Trading System" that was designed, tested and approved by a Certified Financial Planner® that guides students on how to double their annual income in less than 30 minutes per day. He adamantly insists that his students prove their results to themselves before risking any actual trading capital. With Dr. Rouse's revolutionary approach to commodities trading, he believes it is possible for students to make a million dollars over the course of seven years and demonstrates exactly that in his webinar on money.
Dr. Rouse's desire to share his vast wisdom has led him to become a bestselling author. His works include The END of YOUR EMPLOYMENT: 10 Keys to Your Ideal Business and The Real Money Doctor's College Student's Money Guide. He also penned a thought-provoking chapter called "The Truth" for Soul of Success, Vol. 1: The World's Leading Entrepreneurs and Professionals Reveal Their Core Strategies for Getting to the Heart of Health Wealth and Success, a volume co-authored by Jack Canfield of Chicken Soup for the Soul® fame.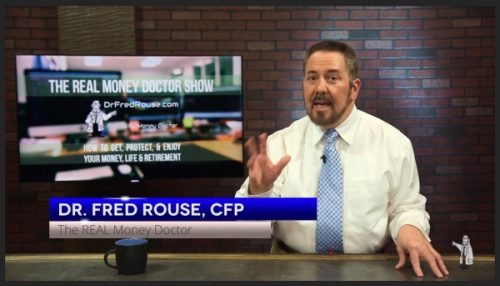 Fred Rouse The Real Money Doctor Book
For those intrigued to learn more about the course, Dr. Rouse offers a free two-hour webinar in which he exposes eight mind-blowing "money lies" that the government, Wall Street and the banks have been concealing from average working Americans for decades about money, taxes and trading. He teaches people how to turn those lies around and exploit them into cash and a secure financial future for themselves and their families, so they never have to worry about money again.
Explaining the essence of the program, Dr. Rouse continues: "What the system does is simply have you review the chart to see if one line crosses the other line. If the conditions are met then, the system gives you the direction and the exact price for you to get in the next day, where to get out with a profit, and where to put a stop/loss if a trade goes against you. After reviewing the results for over a year, you can generally get in and out with a profit in the same day for most trades."
Fred Rouse The Real Money Doctor Reviews
Dr. Rouse has the first and ONLY course that tells you how to trade commodities inside of an IRA and what to expect when you do. "This is the key to real long-term financial security that people just don't know about, including most professional advisors. In fact, after close to 30 years in business, I don't know of any trading course or any professional advisor that covers how to do this," he states.
Dr Fred Rouse Scam
"The course was designed for working people that want to get ahead but just don't have a clear way that's working for them," says Dr. Rouse. "I expose groundbreaking concepts and ideas that they've never seen before. It's my current quest do everything I can to ensure their long term financial security and success as traders because more money gives you more options in life."