Epiphone Elitist 1965 Lennon Casino Worth Extra Money
The Epiphone Casino is an absolutely iconic model, perhaps the best-known Epiphone model ever shipped. It was first produced in 1961, at the Gibson Kalamazoo plant; it was based on the Gibson ES-330TD, which was also built there. The vast majority were dual-pickup instruments, however some early examples were fitted with just one P90 pickup. It's legendary status was cemented in the mid-1960s by the patronage of members of the Beatles, Rolling Stones, Kinks and many more. John Lennon, in particular was often pictured with his Casino, most notably in his Apple rooftop performance of 1969.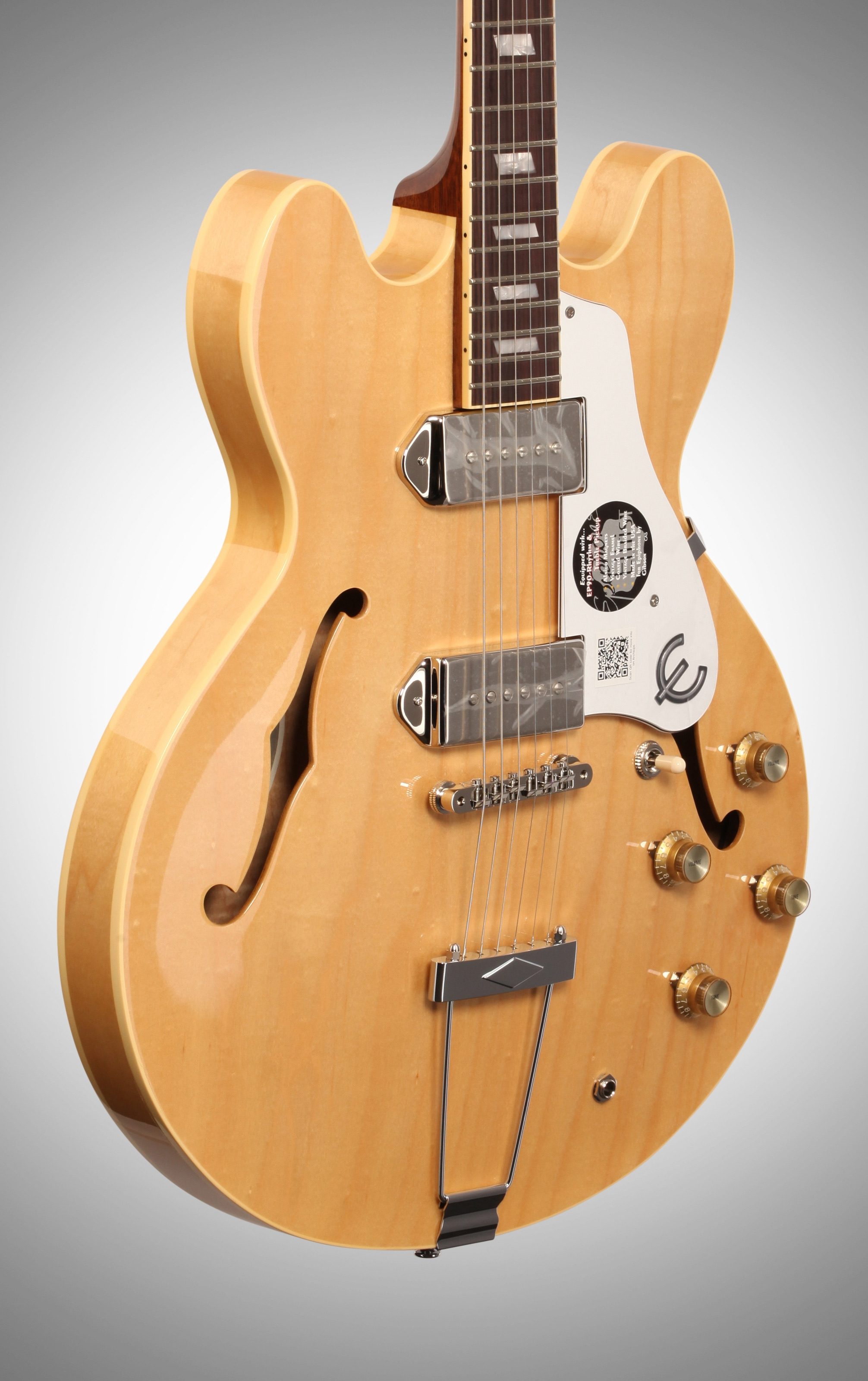 The Epiphone John Lennon 1965 Casino Electric Guitar has a heritage as fascinating as the man whose name it bears. In 1966, during the recording of Revolver, John Lennon and George Harrison acquired sunburst Epiphone Casino.
Original Kalamazoo-built Casinos are highly collectable, and much-loved as professional-grade instruments. Beyond 1969, Casino manufacture was moved to Japan, and later Korea and China. These guitars, although still adequate instruments, are not to the same standard as the real Casinos produced in the 1960s. The current Casinos are good entry-level and intermediate instruments and are still one of Epiphones best-selling guitar models.
Epiphone Elitist 1965 Lennon Casino Worth Extra Money 2017
The Epiphone Casino Elitist is not a first-starter model, not even the lower-priced alternatives. The 1965 Casino shows what an Epiphone premium guitar can look like. That is with the timeless style of the original 1965 Casino hollow body guitar, just like The Beatles' McCartney and Lennon used to play.
I favor the Vintage Sunburst finish out of the others, but I don't like the VS finish on this Casino too much. If I could get it to look like an Elitist '65 or a John Lennon 1965, I'd be happy. Also, at times the pickguard can be annoying. But still, pretty good quality.